Aromatic Turbot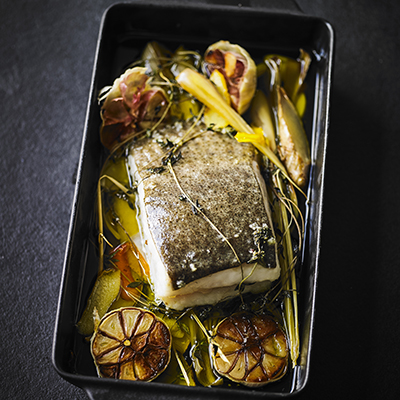 Serves 2
Turbot – the 'King of fish' – is truly delicious, but like all fish it can soon overcook if you're not careful, so it makes sense to use the 5-in-1 Digital Cooking Thermometer to monitor the temperature and make your fish cookery risk-free.
olive oil
2 bulbs garlic, halved widthways
peel of 1 lemon, peeled using a vegetable peeler
peel of 1 orange, peeled using a vegetable peeler
2 stalks lemongrass, halved lengthways
50g fresh ginger, peeled and thinly slice
4 sprigs lemon thyme
salt
1 troncon turbot, approximately 450g
squeeze fresh lemon
Preheat the oven to 120°C.
Heat a little olive oil in a large pan and add the garlic, flat sides down along with all the ingredients (apart from the salt, turbot and lemon juice). Cook over moderate heat until partially caramelised. Transfer the mixture to a small roasting dish, along with additional olive oil coming up 1cm.
Season the turbot on all sides with salt and place in the roasting dish on top of all the aromatics, without submerging in the oil. Cook in the oven basting regularly with the oil, until the core temperature reads 45°C when probed.
Remove from the oven and squeeze fresh lemon juice over the turbot. Allow to rest for 5 minutes, before serving.