Chicken Liver Parfait with Caramelised Onions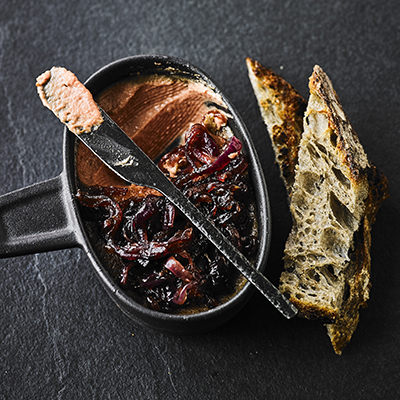 Serves 8
The perfect parfait is all about texture. The Salter 5-in-1 Digital Thermometer, which measures to 0.1°C accuracy, will ensure you take the temperature to precisely 62°C – essential for a parfait that is deliciously silky-smooth.
For the alcohol reduction
2 banana shallots, peeled and finely sliced
1 clove garlic, peeled and sliced
15g thyme sprigs, tied together with string
150g Madeira
150g ruby port
150g white port
75g brandy
For the parfait
400g chicken livers (stringy veins removed)
20g salt
4 large whole eggs
400g unsalted butter, diced
reserved alcohol reduction
125g whipping cream
For the caramelised onions
1 Tbsp olive oil
4 onions, peeled and finely sliced
2 Tbsp balsamic vinegar
salt
4-8 slices toasted sourdough
For the alcohol reduction, place all the ingredients into a pan and bring to the boil over a high heat. Cook until reduced to a thick syrup. Remove and discard the bundle of thyme. Cover and set aside until needed.
To make the parfait, fill a pan with cold water and heat to approximately 50°C. Combine the livers and salt in a sealable sandwich bag. Crack the eggs into a second sandwich bag and the butter in a third.
Remove the saucepan from the heat and place the bags into the water, ensuring no water fills the bags. Allow the bags to warm for 10 minutes so that all the ingredients are the same temperature before mixing.
Preheat the oven to 110°C. Remove the bags from the water and place the livers and eggs into a tall container and add the alcohol reduction. Blitz until smooth using a hand blender. Slowly add the melted butter to, blitzing continuously. Once the butter has been fully incorporated, pass the mixture through a fine sieve lined with a double layer of muslin. Squeeze out as much of the mixture as possible. Stir in the whipping cream.
Pour the mixture into eight 8cm diameter ramekins so until they are two-thirds full. Place the ramekins in a deep roasting tray and pour boiling hot water into the tray until it reaches two-thirds of the way up the sides of the ramekins. Cover the roasting tray with foil and place in the oven. Use a thermometer probe to check the centre of the parfait, removing the tray from the oven once the temperature reaches 62°C. Carefully take the ramekins out of the water and leave to cool for 20 minutes at room temperature before chilling in the fridge overnight.
To make the caramelised onions, heat the oil in a medium-size pan over medium heat. Add the onions and cook until lightly caramelised and golden. Deglaze the pan with balsamic vinegar and cook until all the liquid has reduced. Remove from the heat, season with salt and set aside.
About 30 minutes before serving, remove from the fridge. Serve topped with the caramelised onions and serve with toasted sourdough.