Two iF Design Awards 2017 for Everdure by Heston Blumenthal Barbeques
Everdure by Heston Blumenthal barbeques have been internationally acknowledged for their exceptional form, functional design and aesthetic quality with both the charcoal and gas ranges receiving a coveted 2017 iF Design Award in the Product Category.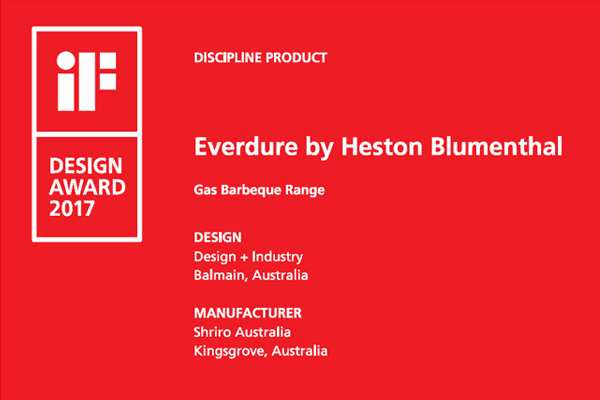 For over 60 years, the iF Design Award has been an acknowledged trademark for exceptional design and it ranks among the world's most prestigious design prizes.  A total of 5,575 entries (from 59 countries) were submitted for this year's award. After three days of judging, an international panel of 58 jurors, consisting of independent experts in industry, design and architecture from all over the world announced the winners.
Everdure by Heston Blumenthal is a range of barbeques like no other.  Utilising over 20 years of professional experience and extensive cooking knowledge, world-renowned chef, Heston Blumenthal embarked on a mission to create what has now been recognised as an award winning range of barbeques.
The two prestigious iF Design Awards convey to all 5 barbeques within the Everdure by Heston Blumenthal product offering which celebrate the technology and science of cooking in a way that is easy to grasp.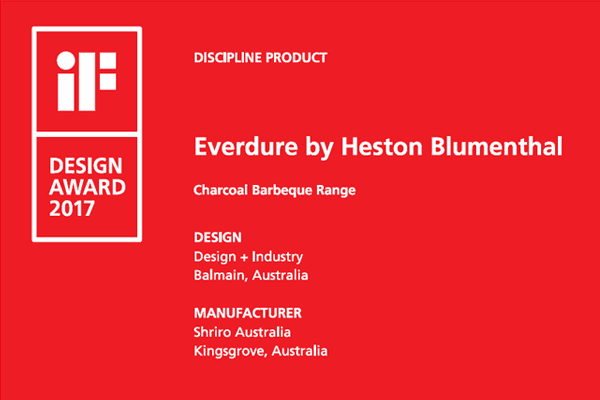 The Everdure by Heston Blumenthal Charcoal range of barbeques, which include the HUBTM, FUSIONTM and CUBETM, impressed judges with features such as the innovative Fast Flame Ignition SystemTM, Rotiscope TechnologyTM  and outstanding aesthetic design, while the Gas range, comprising of the FURNACETM and FORCETM, showcased speed, precision and flexibility never before seen in a barbeque range.
Mike Westrup, CEO, Shriro Australia commented, "These awards are testament to the innovation and outstanding design of the Everdure by Heston Blumenthal product portfolio.  Heston, in collaboration with our product development team and designers, worked tirelessly to bring to market a range combining the latest technology and design aesthetics, with ease of use and thoughtful attention to detail.  We are proud to have been acknowledged by such a prestigious panel of industry experts and to have our entire product range celebrated on an international scale."