Grilled Lobster Cocktail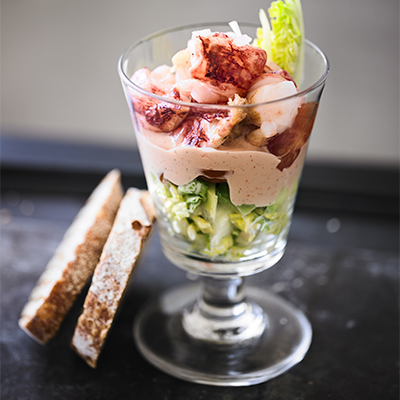 Serves 4
Ingredients
For the Marie Rose sauce
110g tomato ketchup
100g mayonnaise
¼ tsp cayenne pepper
12 drops Worcestershire sauce
2 tsp lemon juice
1 tsp vanilla paste
salt and freshly ground black pepper
To finish
2 x 500g live lobsters
salt
160g reserved Marie Rose sauce
1 avocado
4 heads baby gem lettuce
20g extra virgin olive oil
lemon juice
Method
To make the sauce, combine the tomato ketchup, mayonnaise, cayenne pepper, Worcestershire sauce and lemon juice in a bowl. Add the vanilla paste and season with salt and pepper. Mix thoroughly.
Kill the lobsters by pushing a knife through the tops of the head. Remove the claws and tails. Bring a pan of water (with 10g of salt for every litre water) to the boil. Have a container of ice water ready. Drop the lobster claws and tails into the boiling water for 2 minutes. Remove and plunge into the ice water.
Once chilled, remove the meat from claws and tails, leaving as whole as possible. Char-grill the lobster pieces on a preheated Furnace BBQ making sure to get char marks on all sides and cooking the lobster through.
Peel and de-stone the avocado and chop into medium-size dices. Shred the lettuce. Chop the lobster into pieces and coat in the cocktail sauce. Dress salad leaves with olive oil and lemon juice and sea salt. Build the salads into 4 glass bowls. Place the lobster on top and finish with a little extra sauce.