The Chocolate Teapot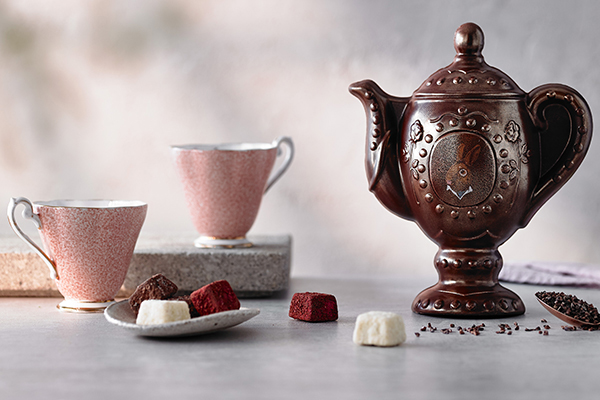 Heston from Waitrose The Chocolate Teapot is worthy of being a centre piece at a Mad Hatter's tea party. Filled with whimsical wonder, a surprise awaits chocolate lovers, who are able to actually eat the sweet teapot.
Heston's magical, milk chocolate teapot comes with cocoa nib 'tea leaves' and crunchy, melt-in-the-mouth 'sugar cubes' made from chocolate and flavoured with Heston's favourite teas. Flavours include warming black tea and ginger with a rich, dark chocolate, delicately perfumed jasmine tea in a creamy white chocolate and fragrant Earl Grey tea with mandarin in a smooth milk chocolate
The delicately designed teapot features ornate detailing and is finished with a gold shimmer and a curious illustration of an anthropomorphic Easter bunny – a rabbit that is impeccably dressed in human clothing – complete with a monocle.
"I wanted to offer something a little extraordinary to shoppers this Easter, something fun and whimsical that we could bring to life in chocolate form. The teapot is utterly scrumptious and the 'cubes' that come with it contain my favourite selection of teas, which bring an array of fragrant notes and unique flavours too." – Heston Blumenthal
Kate Kind, Confectionery Product Developer for Waitrose & Partners comments: "This playful confection is inspired by the idea of a Mad Hatter's tea party. When developing The Chocolate Teapot we worked with Heston and his team to come up with an idea that was befitting to this. Expert chocolatiers crafted the final design, keeping all the intricacy of an old-fashioned, beautiful teapot, but with a quirky Heston twist."
Heston from Waitrose The Chocolate Teapot, £20/240g will launch in Waitrose shops from March 2019.