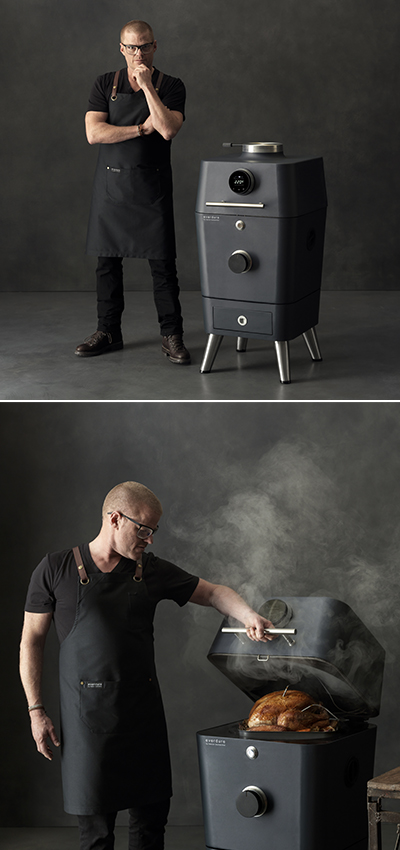 Introducing the latest in Heston Blumenthal's Hi-tech Range of Barbecue Grills – the 4K
Following the successful launch of his award-winning line of grills with Australian company, Everdure, Heston has now released a new product within the range: the 4K, which combines the wisdom of the past with the innovation of the future. Inspired by the 4,000-year tradition of Kamado-style and man-made ceramic clay cooking, the 4K was developed with the appreciation of age-old technique, combined with the intelligence of modern design and technology to bring the convenience and technology of a commercial kitchen outdoors.
What's most exciting about the 4K is that now home cooks everywhere can experience the same kind of culinary mastery as a professional chef. Armed with fast flame charcoal ignition, ambient and integrated probes to control both meat and air temperatures, and linked with Bluetooth connectivity, the 4K can not only cook a meal but also tell you how to prepare it, advising on temperature control, charcoal management and even recipes. So whether you're looking for culinary convenience or the opportunity to unleash your inner caveman (or woman) by cooking over flame, the 4K could well be a piece of kit for you.
For information on where to find Everdure by Heston Blumenthal 4K, please visit the Everdure website: https://www.everdurebyheston.com/stockist or https://www.williams-sonoma.com/

Everdure by Heston Blumenthal 4K
Charcoal Electric Ignition Oven
Fast Flame Ignition – electrically ignites charcoal for quick use
LED display of ambient & probe temperatures
Touch-glass control
Electric oven mode for convection cooking
Bluetooth app connection – receive internal temperature data and charcoal management as well as step-by-step recipe guidance
Cool-to-touch exterior
Side reloading – load fresh charcoal during cooking without having to open the grill and disrupt cooking
Integrated meat probes
Ambient probes – record the average air temperate at any time
Layered cooking
Auto-locking hood