The Gold Loaf
Heston Blumenthal travels to the 1970s for his twist on the Panettone
By Waitrose Weekend
It's time to raise a glass of Lambrusco to Heston Blumenthal as he gives the 1970s treatment to a classic Italian bread. The chef has taken the dark chocolate and kirsch-soaked cherries from a Black Forest gateau – his favourite dessert – and added them to a panettone.
Blumenthal is known for drawing on nostalgia to create clever combinations for his dishes.
In this case it was the nation's affection for a German dessert that made its way to Britain – thanks to the advent of the package holiday – in the decade that also brought us Greek moussaka and Swiss fondue.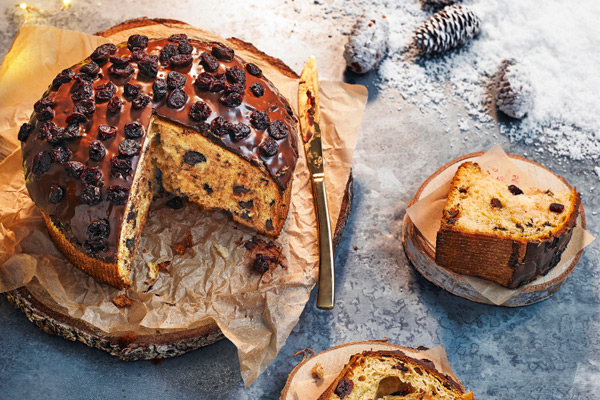 Blumenthal explored how the Black Forest gateau was made in a 2006 episode of his BBC series, In Search Of Perfection. The resulting recipe – a mouthwatering six-layer cake of crunchy biscuit, aerated chocolate, sour cherries, flourless choco- late sponge soaked in kirsch, with kirsch cream and chocolate mousse –
takes two to three days to prepare, he advises.
Waitrose executive chef Jonathan Moore says: 'Flavours of the Black Forest gateau bring back fond memories for many people, and it's most definitely enjoying a revival. Chefs including Yotam Ottolenghi and Bruno Loubet have introduced dishes such as Black Forest Battenberg and Black Forest coupes to their menus.'
Blumenthal has also used the same flavours in a pâté, also destined for the aisles of Waitrose, which will contain layers of smoked venison and smooth venison with chocolate, topped with a layer of sour cherry and kirsch.
The Waitrose 1 Black Forest Venison Rack (£59.99/1.2-1.4kg) now available from waitrose.com/entertaining is covered in an aromatic cocoa nib, chestnut and sourdough crumb, and accompanied by a rich gravy and cherry sauce scented with orange and port.
And another newcomer, the Waitrose Black Forest Sparkle Bar (£13/700g), has cherry and almond flavours, along with a shimmering red finish and rich dark chocolate mousse filling.