Heston's Banana Eton Mess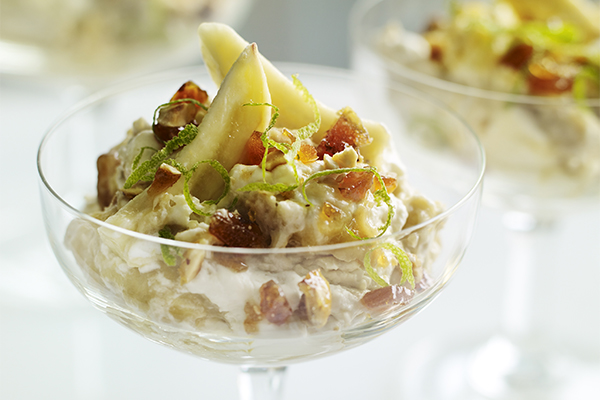 "Though most people associate this very British summer dish with strawberries, there is evidence that it was originally made with bananas or strawberries at the Eton College tuck shop. I love the different textures of the soft banana and cream with crunchy meringue and praline cut with the acidity of limes." – Heston
200g whole blanched hazelnuts
450g unrefined golden caster sugar
2 tsp salt
6 bananas, peeled (plus 2 bananas, peeled and roughly chopped)
25g Havana Club Especial rum
½ tsp salt
juice of 5 limes (to yield 25g lime juice for the banana puree; 80g lime juice for the lime cream)
300g double cream
1 tub 16 Waitrose Mini Meringue Shells, each shell cut into 4 pieces
zest of 2 limes
Preheat the oven to 180°C. Place the hazelnuts on a baking tray and put into an oven for 10 minutes. Next, put 200g of the unrefined golden caster sugar and 75g water into a frying pan and place over a medium-high heat until the sugar dissolves and the liquid becomes a dark-brown caramel. Add the toasted hazelnuts and salt to the pan and stir until the nuts are coated, then pour the mixture onto a baking tray lined with greaseproof paper. (The caramel is extremely hot, so be careful when pouring.) Allow to cool.
Once cold, wrap the hard caramel in a clean tea towel and bash it with a rolling pin to break it into smaller pieces to create praline pieces. (These will keep in an airtight container for at least 1 month.)
To make the banana purée, put the remaining unrefined caster sugar in a frying pan over a high heat and bubble until golden brown. Once it is caramel in colour, add the whole bananas turning them over in the caramel so they are completely coated, then add the rum to the pan in order to remove the delicious bits from the bottom.
Empty the contents of the pan into the food processor along with ½ tsp of salt and 25g lime juice, then blitz until smooth. Pour into a container, cover and place in the fridge to cool completely.
To make the lime cream, combine the double cream and lime juice in a bowl and whisk until very soft peaks are formed, being careful not to over-whisk.
Combine approximately 20g of the praline pieces with the banana purée and the lime cream.
Gently fold in the chopped fresh banana and the meringue pieces and move the mixture to a serving dish. Garnish with extra praline and then sprinkle the lime zest over the top.