Heston's Cinnamon Roll Monkey Bread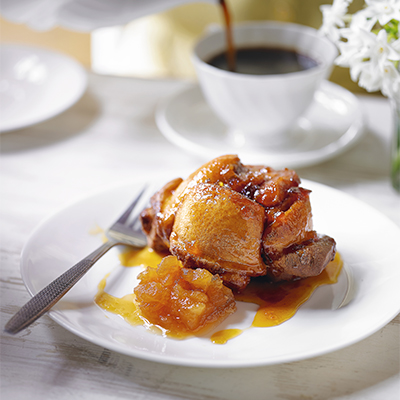 'This is my take on a classic American pastry that deserves to be better known over here. With its soft, rich dough, hints of cinnamon and vanilla, and crisp, caramelised crust sprinkled with crunchy nuts, it offers a lovely (and highly addictive) mixture of textures and flavours.' – Heston
Serves 3
Ingredients
For the dough
120g warm, whole milk
25g white caster sugar
1 tsp dry yeast
30g unsalted butter
½ Waitrose British Blacktail Free Range Egg yolk
½ tsp vanilla extract
210g plain flour
pinch of salt
For the caramel
200g sugar
75g The English Provender Co
Bramley Apple Sauce with Calvados, plus extra to serve
For the cinnamon butter
80g softened butter
100g granulated sugar
1 Tbsp ground cinnamon
To finish
15g chopped pecans
50g melted butter
Method
To make the dough, place the warm milk in a bowl with the sugar and yeast. Allow to stand for 5 minutes, before adding the butter, egg yolk and vanilla and stir to combine. Place the flour and pinch of salt in a large bowl, pour in the milk mixture and using a spatula mix together until well combined.
Using a mixer fitted with a dough hook, knead the dough for 7–8 minutes or until soft and sticky to the touch. Place the dough in a lightly oiled bowl and cover with clingfilm and allow to stand at room temperature for 1 hour. Using the palm of your hand press down on the surface of the dough to release the gases formed during fermentation and shape into a ball. Place the dough again into the bowl, cover and place in the fridge to prove for 4 hours.
In the meantime, to make the caramel, place the sugar in a pan. Cook on high heat until a caramel is formed, regularly brushing the sides of the pan with water. This will ensure that the sugar at the edge doesn't burn. Remove the pan from the heat and stir in the apple sauce.
To make the cinnamon butter, place the butter, sugar and cinnamon into a bowl and stir with a spatula until combined. Reserve.
Brush the inside of two 9cm ramekins with a little melted butter. Add 2 tbsp of the caramel to the bottom, reserving a little to pour over at the end. Sprinkle over some of the chopped pecans and allow to cool completely.
Preheat the oven to 180ºC, gas mark 4. To finish, divide the dough into 2 halves, lightly flour a surface and using a rolling pin, roll the dough into a rectangle with a thickness of approximately 0.5cm. Spread the cinnamon butter mix on the surface of the dough and begin to roll inwards from the longest side of the dough. Once completely rolled, placed in the fridge for 10 minutes. Cut the dough into 3cm pieces and stand them inside of the ramekin on top of the caramel, approximately 4–5 pieces per ramekin. Leave in a warm place and prove for a further 20minutes. Then bake in the preheated oven for 30 minutes. Once baked, remove from the oven and turnover onto a plate. Serve topped with an extra spoonful of the apple sauce.
Cook's tip
Brown butter, also known as beurre noisette, offers a great way to introduce richness and a lovely nutty flavour to all sorts of recipes. To make it, melt 100g unsalted butter in a medium pan over a gentle heat, whisking continuously, until the solids turn golden brown and give off a nutty aroma. Immediately take the pan off the heat and strain the butter through a coffee filter.