Heston's Grilled Steak and Parsley Sauce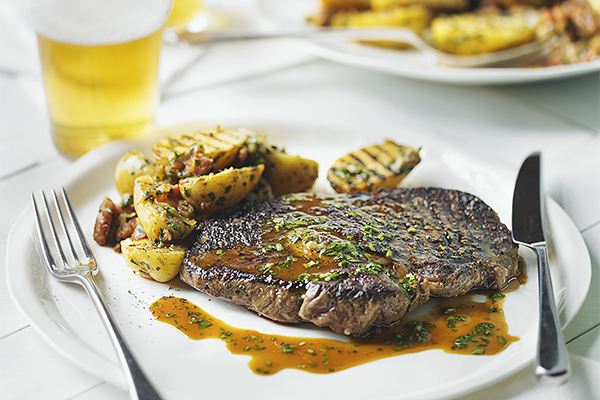 "Flip a steak on the barbie, or in a suitably hot pan – and keep on flipping it. Frequently turning the meat is the best way of ensuring it cooks evenly. The next essential technique is letting the meat rest, which allows residual heat to finish the cooking, and helps the flesh relax, so that it stays really juicy. After you've taken such care, you want the quality and character of the meat to shine through without too much distraction. So here's an incredibly simple sauce – meat juices reduced to intensify their flavour then mixed with mustard and vinegar for tang and acidity, plus some herbs chopped and added at the last minute for freshness – which complements the steak but doesn't steal its glory." – Heston
Serves 4
200g pack Heston from Waitrose Finishing Jus for Beef
20g Dijon mustard
25g cider vinegar
4 Ribeye steaks
1 tbsp fresh tarragon
1 tbsp fresh parsley
1 tbsp fresh chives
Place the finishing jus in a pan over medium-high heat and reduce by half. Once reduced, add the Dijon mustard and cider vinegar. Keep warm. In the meantime, to cook the steaks, season with salt and place them on a hot barbecue or pan, flip the steaks every 15–20 seconds for 2 to 3 minutes, depending on the doneness of the steak. Remove from the barbecue or pan and place on a cooling rack over a tray. Allow to stand for 5 minutes.
While the steak is resting, finish the sauce by finely chopping and adding the herbs to the sauce and season with salt and freshly ground black pepper.
When ready to serve, season the steak with a little more salt and freshly ground black pepper and serve with the parsley sauce spooned on top.