Heston's Peach, Parma Ham and Gruyère Salad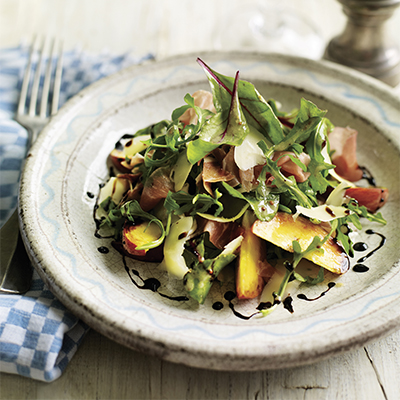 "Nothing beats perfectly ripe peaches in the summer and I love using them in salads like this one. The Gruyère, cloves, Parma ham and peaches make a surprisingly good combination for a summer lunch for four or starter for six. Serve with an ice cold glass of Manzanilla sherry." Heston
For the vinaigrette
40ml white wine vinegar
40g wholegrain mustard
120g grapeseed or ground nut oil
½ tsp ground cloves
salt
For the drizzle
125g balsamic vinegar
For the salad
2 ripe peaches
2 x 100g Waitrose wild rocket and chard
2 x 90g Waitrose Farm Assured Parma Ham, roughly chopped
sea salt and freshly ground black pepper
80g Gruyère cheese, shaved with a potato peeler
For the vinaigrette, combine the vinegar and mustard in a bowl and whisk together. Slowly add in the oil while still whisking. Add the ground cloves and season with salt.
For the drizzle, pour the balsamic vinegar into a small saucepan and bring to the boil over medium heat. Let the liquid reduce to a syrup consistency and remove from the heat. This should take about 10 minutes. Allow to cool.
Remove the stones from the peaches and slice them into thin wedges.
Toss the rocket and chard leaves in the vinaigrette and season with salt and pepper. Add the peach slices, the thinly sliced ham and the Gruyère shavings and mix together gently. Place a generous pile in the centre of each plate and, using a spoon or squeezy bottle, drizzle the balsamic over the top of the salad.
Cook's tip:
Place the slices of Parma ham in the freezer for about 10 minutes while the vinegar is reducing; this will make them easier to cut.