Heston's Smoked Salmon Cocktail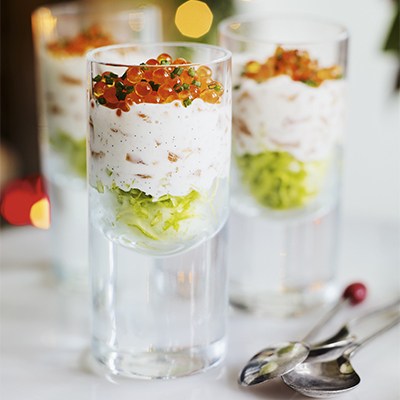 "The Lapsang Souchong Tea Smoked Salmon I have developed with Waitrose is delicious simply served on brown bread and butter with a squeeze of lemon but these canapés are great for a Christmas party. Try stirring a spoonful of horseradish sauce through the mixture for an extra kick." Heston

75g Heston from Waitrose Vanilla Mayonnaise
75g soured cream
100g pack of Heston from Waitrose Lapsang Souchong Tea Smoked Salmon, diced
squeeze of lemon
¼ small iceberg lettuce, finely shredded
Elsinore Salmon Caviar
chives, to garnish
Mix the vanilla mayonnaise with the soured cream and add thediced salmon. Add a squeeze of lemon and stir to combine.
Put a little shredded lettuce in the bottom of 8 shot glasses, top each glass with the diced salmon and mayonnaise mixture.
Garnish the top with a layer of rinsed salmon roe and sprinkle with finely chopped chives.
Cook's tips:
Add soy sauce to the caviar for a burst of flavour. Carefully rinse the eggs in cold water several times until the water runs clear. Drain and add a few drops of soy sauce then place a little on top of each canapé.