Heston's Triple Cooked Chips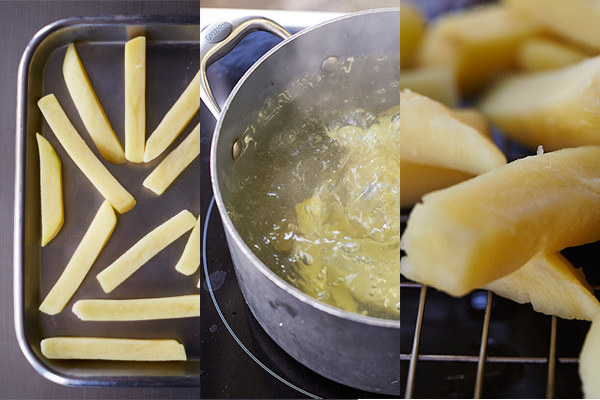 The secret to achieving Heston's famous Triple Cooked Chips is explained in the following steps. Fluffy-on-the-inside and crispy and crunchy-on-the-outside, this side dish has cropped up in many restaurants and they are served at Heston's very own restaurant, The Hind's Head, Bray.
First, slice your potatoes into chip-like shapes. Put some cold tap water into a large saucepan and add your potatoes. Leave on a medium heat and simmer for around 20-30 minutes, or until the chips are started to fall apart.
Next, remove the chips from the saucepan and place on a cooling rack to dry out. Once dried out, the secret is to place the chips in the freezer for an hour or so. This allows for the moisture to be completely removed.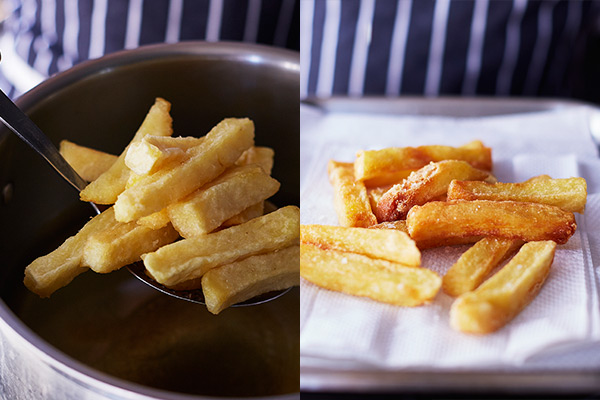 Now's the fun part, add oil to your deep fat fryer and start to heat. We recommend frying the chips in small batches, rather than all at once. This allows for a light crust to form. Once completed, remove from the oil and drain on kitchen paper.
After your chips have drained, place them on a cooling rack and back in the freezer for an hour.
For the final step, heat your oil in the deep fat fryer and fry your chips until they are wonderfully golden brown. Again, remove the chips and drain the oil. Serve with sprinkled salt, ketchup or mustard. We recommend eating them whilst they are hot!