Honey Mustard Glazed Ham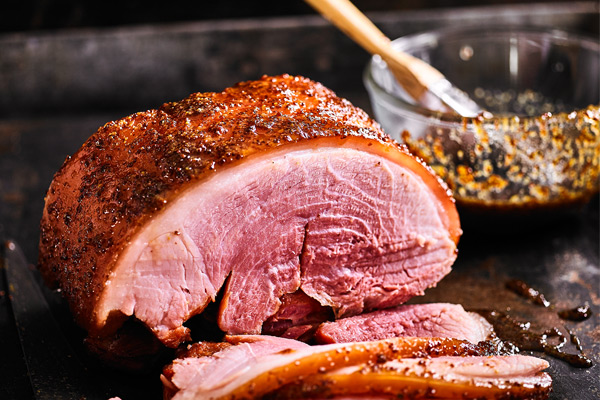 Serve 8-10
To initially cook the ham
2kg smoked gammon joint
2 bulbs of garlic, crushed
1 onion, peeled and roughly chopped
1 carrot, peeled and roughly chopped
2 sticks celery, roughly chopped
1/3 cinnamon stick
1 tsp freshly ground black pepper
1 bay leaf
For the honey mustard glaze
220g honey
150g Calvados
150g wholegrain mustard
Cook the ham by placing it into a pan and pouring enough cold over to cover it completely. Add the
remaining ingredients and bring to a gentle simmer for 1.5 hours. Remove from the heat and allow to
stand in the liquid for at least half an hour. (At this point, you could also choose to reserve the ham in
the fridge if you wish to finish it later or the following day.)
For the glaze, place the honey in a pan and heat to 135°C. Remove the pan from the heat and add the
Calvados carefully. Return the pan to the heat, bring to the boil then reduce to a simmer until the
liquid has reduced to what was the honey consistency.
Preheat the Hub or Fusion BBQ to medium heat and remove the gammon from the liquid. Carefully
place on a spit, then onto the barbeque on height setting 2. Apply layers of glaze to the gammon
every few minutes until the ham begins to get sticky, this takes about an hour. Once sticky, lower the
spit to setting 1 to colour for another 10 minutes.
Remove the ham from the spit and rest for 10 minutes before carving.
Serve with the any remaining glaze as a sauce on the side.