Lamb Kofte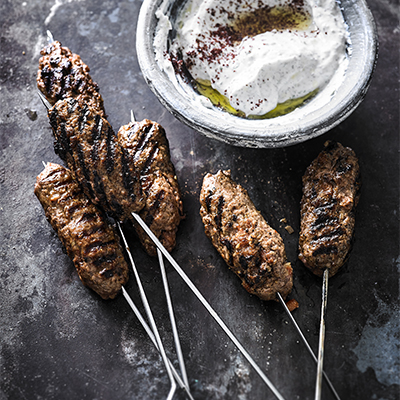 Makes 12
Ingredients
For the kofte
1 Tbsp olive oil
100g red onion, peeled and finely diced
2 cloves garlic, peeled and finely chopped
½ tsp sweet paprika
½ tsp smoked paprika
½ tsp cumin seeds, toasted and ground
120g tomato concasse
720g ground lamb
1 Tbsp mint leaves
1 Tbsp salt
For the dip
½ tsp sumac
150g plain yogurt
1 tsp mint leaves
salt, to taste
Method
Place a pan over medium heat and add the olive oil. Sweat the red onions until soft and lightly caramelised, then add the garlic, spices and the chopped tomatoes. Remove from the heat and allow to cool completely.
In a bowl, combine the lamb mince with the cooled spice tomato mix. Finely chop the mint and add to the mix along with the salt. Weigh out 60g balls of the mixture and shape onto a metal skewer into a sausage-shape about 10cm long. You should yield approximately 12 kofte.
To make the dip, mix the sumac and yogurt. Finely chop the mint and add to the yogurt, stirring well to combine. Season with salt. Cook the kofte on a preheated Fusion grill to a core temp of 60°c – and serve with the dip on the side.