Miso Soup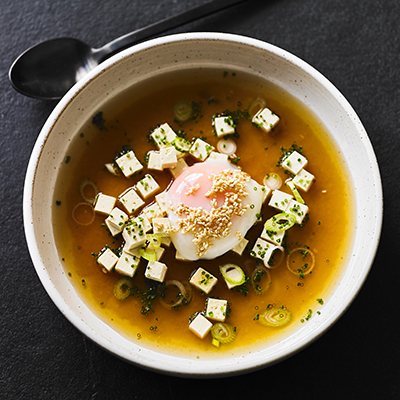 Serves 4
A beautifully savoury and clean-tasting soup that just requires you to heat both the dashi and eggs to 60°C and hold them there for an hour, which becomes a simple enough task if you have the 5-in-1 Digital Cooking Thermometer to clip to the pan and take accurate readings.
For the dashi
500g mineral water
10g kombu
5g lapsang souchong tea loose leaves
peelings of ½ lemon, using a vegetable peeler
For the miso soup
4 large eggs
400g reserved dashi
50g red miso paste
8g white soy
8g mirin
8g dark soy
225g smoked tofu, diced 1cm
4 spring onions, finely sliced
2 Tbsp toasted sesame seeds
1 Tbsp chives
To make the dashi, place the mineral water and kombu in a pan and bring to 60°C over low heat. Maintain this temperature for 1 hour. Add the tea leaves and lemon peelings and leave to infuse for 3 minutes. Strain the mixture through a fine mesh sieve, discarding the kombu, leaves and peelings.
In the meantime, bring a pan of water to 60°C over low heat and gently lower the eggs into the water, leaving them to cook for 1 hour, maintaining this water temperature.
To finish the miso soup, season the warmed dashi with the red miso, white soy, mirin and dark soy. Divide between four bowls and crack an egg into each. Garnish with the diced tofu, spring onions, toasted sesame seeds. Finely chop and scatter over the chives.