New Heston Meat Range Combines History and Gastronomy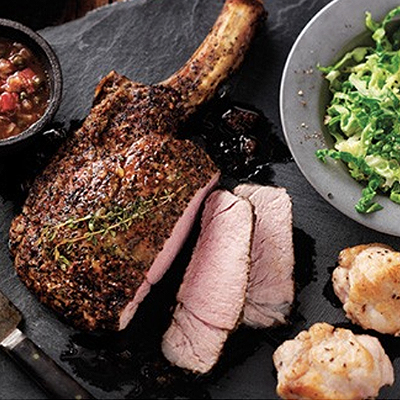 A couple of months ago, through Waitrose & Partners we launched a new range of innovative meat dishes. These were restaurant-quality dishes centred on delicious but often lesser-known cuts of meat, each with a curious Heston-style twist, such as steak paired with coffee; short rib of beef accompanied by pink grapefruit and vanilla; and pork complemented by quince and gherkin. Mind-blowing and mouth-watering, right?
The range takes inspiration from historic recipes and traditions. Heston has modernised classic dishes like roast pork with crackling; veal chops; and duck à l'orange. And he has drawn on influences from America and Asia for his slow-cooked short ribs, and his Hoisin duck. "I have always been fascinated by historic recipes," says Heston. "In the library in Bray, I have a number of very old books that look like they are falling apart but are full of wonderful nuggets of information. I consulted them all the time while setting up my restaurant Dinner by Heston and writing the book Historic Heston. Now they have served once again as inspiration for this new range. We have worked very closely with the Waitrose team to deliver not only top quality but also something that is curiously special."
The dishes are the ultimate in quality and convenience. It's a world away from your typical ready-meal. Perfect for a decadent night in – either on your own, or with friends.
Coffee & porcini steak, mushroom ketchup, bone marrow sauce
This flavoursome, thick-cut bavette steak has a coffee and porcini rub and a tangy mushroom ketchup with red wine and aromatic spices. A smoky sherry vinegar and herb butter and a rich bone marrow sauce complete the dish.  Serve with fries and a crisp green salad.
Slow cooked short rib, vanilla, star anise & pink grapefruit
Meltingly tender Douglas fir-smoked beef short rib, which has been marinated in star anise and coriander seed and cooked for 10 hours, is ready to glaze with a vanilla finishing jus. Served with a tart pink grapefruit salsa and sweet, crispy sweetcorn, this dish is ideal with baked sweet potatoes and some slaw.
Veal chop and sweetbreads, 'Sauce Reform', sherry vinegar butter
A prime veal chop, brined to retain succulence, with an aromatic spiced rub of lemon, juniper, mace and green peppercorns is served with tender veal sweetbreads. The veal is accompanied by a smoky sherry vinegar, Worcestershire sauce butter and a rich, tangy 'Sauce Reform' based on beef stock, with red wine, redcurrant, lemon, capers and shallots for complex acidity. A British culinary history classic, 'Sauce Reform' dates back to the 1800s, originating from the iconic Reform Club in Pall Mall. Serve with braised savoy cabbage and roast potatoes.
Duck a L'orange, mandarin & miso ketchup
Two lightly spiced Gressingham duck breasts marinated in caramelised orange zest, honey, thyme and ginger, served with a rich duck jus. The meat is accompanied by a tangy mandarin and miso ketchup and spiced puffed rice for a delicious crunch. Serve it with butter roasted new potatoes and lightly cooked spinach.
Hoisin Duck with Szechuan pepper, hoisin ketchup and puffed rice
A curious rendition of a classic Hoisin duck – two Gressingham duck breasts with an umami-rich Szechuan pepper rub. A rich duck jus and piquant hoisin ketchup made with porcini, miso and black beer are the perfect foil for the meat, with a five-spice puffed rice for added texture. Serve with basmati rice and stir-fried greens.
Spiced rack of pork, black pudding, quince, gherkin, mustard & calvados
A double pork chop, brined in a nutmeg, clove and mace marinade is wrapped in a smoky black pudding stuffing. The chop is served with a piquant gherkin, mustard and Calvados sauce and a fruity quince and apple compote as a contrast to the rich black pudding. A crisp bacon and crackling crumb completes the dish. Serve with mashed potato and braised greens.