Romano Lettuce Vegetable Wedges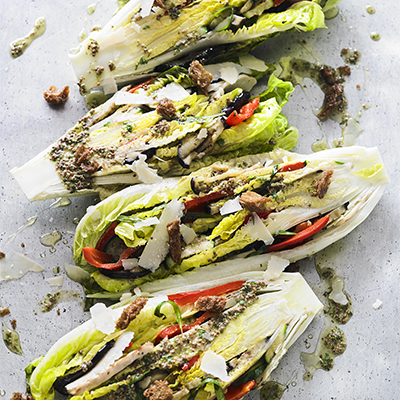 Serves 2
For the vegetables
1 courgette
1 aubergine
3 King oyster mushrooms
2 Romano red peppers
1 tsp tarragon leaves
vegetable oil
salt
For the dressing
50g wholegrain mustard
30g white wine vinegar
155g olive oil
2 tsp tarragon leaves
To finish
2 romaine lettuce
40g Parmesan shavings
croutons
Slice the courgette, aubergine, and King oyster mushrooms into equal size pieces approximately 0.5cm thick. Cut the Romano pepper in half lengthways and remove the seeds and stalk, then cut each half into 3 pieces. Lightly coat all the vegetables with oil and lightly season with salt. Heat the BBQ and grill the vegetable on all sides until soft and caramelised. Remove the vegetables from the BBQ and lay out on a tray.
To make the dressing, add all the ingredients into deep container and emulsify using a hand blender. Use only half of the dressing and add the whole tarragon leaves. Add to the grilled vegetables and leave to marinate for at least an hour.
Wash the romaine lettuce leaves while still attached to the root. Carefully pry open the lettuce enough to allow you to fill the gaps with the marinated vegetables, making sure to fill all the gaps. Once the romaine lettuce has been filled, tie the whole lettuce using butcher's twine.
Place the lettuce in a preheated Fusion BBQ and quickly grill the lettuces on all sides. The lettuce should be soft on the outer leaves and slightly warm. Remove from the heat and cut the strings off. Using a sharp knife, cut in half lengthways. Finish by drizzling some of the remaining dressing on top and scatter over the Parmesan shavings and croutons.