Salmon en croute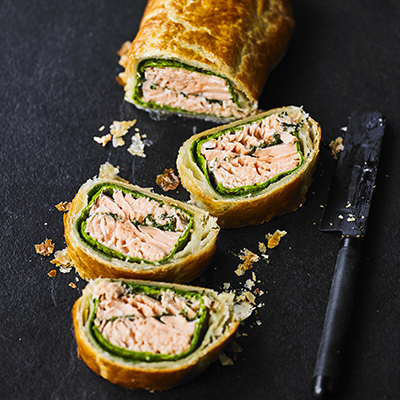 Serves 4
You can cut into that crunchy puff pastry crust knowing that your salmon's cooked to perfection if you've used the 5-in-1 Digital Cooking Thermometer to make sure it's reached that all-important 50°C.
For the herb pancakes (makes 4-6)
25g baby spinach (blanched and drained weight)
3g tarragon leaves
4g flat leaf parsley
2 whole eggs
75g plain flour
100g whole milk
pinch salt
olive oil
To finish the salmon
2 x 250g sheets ready-rolled puff pastry
reserved herb pancakes
500g salmon fillet, skinned and deboned
5g tarragon leaves
5g flat parsley leaves
5g chervil leaves
1 egg, lightly beaten
For the herb pancakes, boil the spinach in a pot of boiling water for 30 seconds, then remove and plunge into an iced bath. Once cooled, drain and squeeze out excess liquid and pat dry with kitchen paper. Roughly chop the spinach and add to a blender with the remaining pancake ingredients. Blend on high until smooth. Pass the batter through a sieve and set aside. Lightly grease a non-stick pan with a dab of olive oil and cook the pancakes one at a time over low-moderate heat. Set aside until needed.
Roll out one of the pastry sheets onto a sheet of parchment paper. Place two pancakes on top of the pastry. Using a sharp knife, cut the salmon fillet in half lengthways. Place one half on top of the pancakes. Finely chop and combine the herbs and scatter over the salmon. Cover with the remaining piece of salmon. Cover with two more pancakes and wrap well. Brush the visible areas of the bottom layer of pastry with the egg wash and cover the salmon with the second sheet of puff pastry. Trim the pastry around the edges and use a fork to decoratively seal the pastry. Place in the fridge until needed.
To cook, preheat the oven to 180°C – with the pizza stone placed on the middle rack. Place the salmon (still on the parchment paper) onto the pizza stone and cook for 30 minutes. The salmon should reach a core temperature of 50°C when probed before it is removed from the oven. The temperature will continue to rise once the salmon is resting on a cooling rack over a tray, which it should do for 10 minutes before serving.