Suckling Pig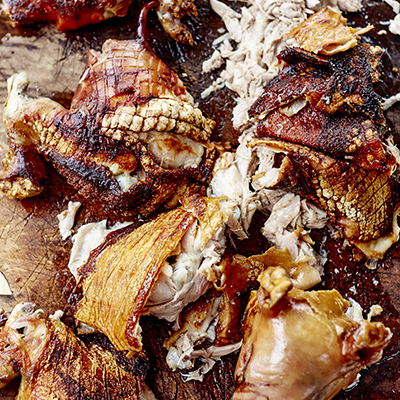 Serves a crowd
Ingredients
12kg suckling pig
3kg rock salt
vegetable oil
Method
Dry the skin of the pig. Using a sharp knife, lightly score the skin in a criss-cross fashion. Using some of the salt, massage the skin of the pig ensuring that it is covered in salt. Place some of the salt on the bottom of a large container. Place the pig on top and place the remainder of the salt on top to cover. Allow to stand for 2 hours.
Remove the pig from the salt and scrub off the excess salt. Dry the skin with kitchen towels and place in the fridge overnight.
Set up the BBQ by filling the tray with charcoal and igniting it. In the meantime, rub vegetable oil on the surface of the pig. Place the pig on the middle setting of the rotisserie function and allow to rotate for 1 hour. Move the rotisserie to its highest setting and continue to rotate for an additional 3 – 3.5 hours while topping up the charcoal as needed, ensuring the heat is evenly distributed. Lower the pig in the rotisserie back to the middle setting for the last 30 min of cooking.