Whisky Short Rib with Padron Peppers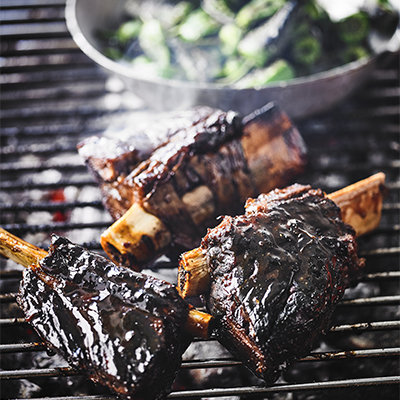 Serves 4
To braise the short ribs
225g Monkey Shoulder Whisky
2 cloves garlic, peeled and crushed
juice and zest of 1 orange
130g honey
5 sprigs thyme
2 mild red chillies, seeds removed and finely chopped
1 Tbsp red Kampot peppercorns
1 Jacob's Ladder short rib, cut into 4 portions (bones-in)
For the Cube picnic
4 reserved short ribs
salt and freshly ground black pepper
reserved short rib glaze
300g Padron peppers
olive oil
½ lemon
To prepare the short rib (this step should be done at home), pour 2 litres of water into a pan along with 200g of the Whisky. Add the remaining ingredients, ensuring the short ribs are covered in the liquid. Bring to a simmer over low heat, while covered with a cartouche. Simmer gently for 3-3.5 hours until the ribs are tender. Remove the pan from the heat and allow the ribs to cool in the braising liquid. Using tongs, carefully remove the ribs from the liquid. Wrap with cling film and place in the fridge. Strain the liquid into a bowl, discarding the herbs.
To finish the glaze, place the reserved braising liquid into a pan and reduce over a moderate heat to a thick syrup consistency. Add the remaining 25g whiskey and reduce again to the same consistency. Set aside to cool, then reserve, covered in the fridge.
When ready to cook on your picnic, light the coals of the Cube and bring to a low heat. Season the ribs with salt and freshly ground black pepper. Arrange the coals to one side of the Cube and place the ribs on the cool side of the grill until warmed through, approx. 5-10 minutes. Once the short ribs are hot and start to form a crust, move them to a hotter part of the grill and brush on the glaze. Brush regularly, while turning the ribs until they are dark and sticky. Remove and allow to rest on a chopping board.
While the ribs are resting, prepare the Padron Peppers. Drizzle a little oil on the peppers and toss well to coat. Place the peppers on the hot side of the grill and cook for 2 minutes over high heat until charred and softened. Season the peppers with lemon juice and salt and serve with the short rib.